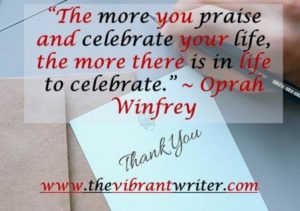 Here goes a small tale I heard from a learned speaker addressing her audience about appreciation:
"A husband returns home from work to find his wife sitting on couch digging in a big bag of chips while watching TV, the house was a mess and his usually dolled up wife matched the house in appearance. She was still in her night clothes with messed up hair and a pile of home-delivered food's empty containers lying on the coffee table in front of the couch. His emotions changed from stunned, angered and then worried within minutes. He went close to his wife and holding her hand he asked in a lowered volume, "what happened? Is everything fine?" She gave him a smile and calmly said "nothing."
He went to the kitchen and saw there was no dinner prepared and the sink was overflowing with dirty dishes, he went to the bedroom and saw the bed still not made up. Laundry laying here and there, even his wet towel which he threw on the bed in the morning dried there itself. He rushed back to his wife and now with a firm voice he asked again, "Please tell me what's the matter?" His wife gave him a sweet smile and replied: "Nothing dear every day you ask me, "what the hell you do whole day long?" So I did nothing today."
Conclusion:
I hope the husband learned the lesson but don't we do the same. Don't we always take people close to us for granted? How many times do we appreciate our loved ones? Our spouse or children or parents or siblings or friends or anyone who we depend upon? we don't realize the importance of their presence in our life. Why don't we appreciate the people in our life? Saying a simple thank you can be more powerful than we realize.
I do most of the cooking at home. When my busy husband takes out time to cook anything I appreciate it till he blushes. It's not at all about the food he cooks or the work he puts into it but the thought that counts the most for me. As a result, he loves making more of these crazy experimental dishes for us. He puts his heart and soul in them because he knows his efforts are not only recognized but also appreciated. The result as you guessed right is always great food plus amazing quality time in the kitchen together.
Don't get me wrong it's not about getting work done from your spouse plan, showing your love for each other by doing something different and special together makes the life worth celebrating. In that couple of hours, we forget the daily grind and enjoy the present that means not thinking about the past or worrying about the future.
"The talent for being happy is appreciating and liking what you have, instead of what you don't have." ~ Woody Allen.
We are the happiest when we Live in the Present. It may feel hard to spend most of our time in the present as we are used to thinking about our past or worry about future. We need to reprogram our mind to appreciate more and complain less. It is easy to tame your mind into a very beneficial positive appreciation habits using any or all below-mentioned methods. I gathered following tricks from many influential books like The Power of Appreciation, Creative Visualization.
5 Habits of Appreciation:
1. Appreciation Prayer:

Like me, if you are one of those who prays, this will be the easiest way for you to start your appreciation habit. Just after your daily prayer, Thank God for something big or small. Feel grateful. It can be a single thing or a list of things. You will soon see the difference and get a feel for your prayers being answered.
2. Appreciation Diary:

This can be the old school actual diary as many of us grew up writing in or the latest digital version of our computers or smartphones. Maintaining a diary is fun. We can document all our achievements big or small and when we need encouragement just going through this diary is bound to lift our spirits and help us create more reasons to write in that diary.
3. Appreciation Object:

If you have read or watch "The Secret" you will immediately know what I am talking about for those who haven't yet I would love to expand on this. An appreciation object is anything you can carry with you daily in your pocket that can remind you to be grateful for everything in your life. It can be a small rock, toy, marble, or anything small enough to carry and unique enough that you will remember its purpose. Whenever you touch it say thank you for something in your life…simple.
4. Appreciation before or after sleep:

Just like appreciation prayer counting your blessing before or after your sleep can be a sure shot way to have a positive and productive day ahead. Plus it is far interesting than counting sheep. 
5. Appreciation as and when required: Saying thank you at the right time for the right reason can help not only in your work but personal life as well. So never miss an opportunity to say thank you. It is very important that these thanks are genuine and not just a formality. It will make the other person feel good and the relationship will only benefit from a good heartfelt thank you.
"Be thankful for what you have; you'll end up having more." – Oprah Winfrey
So how have you introduce the power of Appreciation in your life?