Those who know me know that I am a student of life that means I like to keep studying about Power of Mind, Spirituality, Positive Thinking, Health and one of my favorite area – Happiness.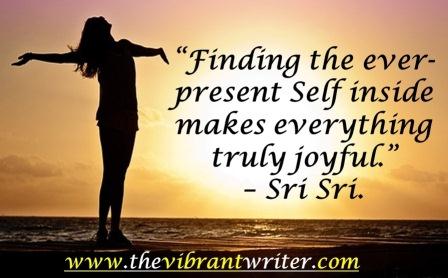 I zealously take on every chance to grow my knowledge in the topics mentioned above. Recently I got the opportunity to do the Art of Living's Happiness Course and I am glad I did it. This course highlights some important life lessons that most of us tend to forget in our daily struggles. This is not a religious course as it focuses mainly on the way we react with people or circumstances and its effect on our life.
The course also encourages the habit of daily exercises, Meditation, Yoga and Pranayama. One feels refreshed and recharged while and after this course. The Happiness Course acts as a Mind and Body detox.
"The best form of worship (puja) is to be happy, is to be grateful" – Sri Sri
Initially I was a bit concerned about the time requirement for the course. 6 days 3 hours each felt a little tedious. I was pleasantly surprised that the time flew by during those 6 days. Every morning I got up looking forward to the class and was happy to be an active participant in the program. Both my teachers (Sunil Poddar and Preetam Lunawat) were bustling with energy and joy, they also encouraged us all to stretch our limits be it of our stressful mind or tired body.
"Keeping the mind happy makes work effortless. This is the skill for productivity" – Sri Sri
AOL Happiness Course has taught me to focus on the present it has also taught me to live responsibly. This program teaches 5 main points which I have shared below.
Happiness Point 1: Opposites compliments each other
Without darkness, we cannot appreciate Light. Without Sadness, we would not know happiness. We need to accept and value the bad to appreciate the good. Life is fascinating when it is full of ups and downs. We need to understand that our universe has a beautiful balance of opposites.
Happiness Point 2: Accept people and situation as they are
Do not spend your life reacting to unfavorable situations. Life is going to throw some curve balls and we need to respond to them in a matter that will help others and us in the situation. A panic or angry reaction will only make the situation worst.
Similarly, we tend to compare a person with others that creates a lot of bitterness in relationships. Check out an article about harms of not accepting people as they are 7 Mind Traps that Steal our Happiness Trap 3: Comparison
Happiness Point 3: Don't be a football of other people's opinion
People worry a lot about what others say about them and this burden of other people's opinion forces a person to take some very wrong decisions. I have written a detail article on the mind trap that will help anyone who feels trapped because they cannot ignore other people's opinion. 7 Mind Traps that Steal our Happiness Trap 1: What other People Think about me
Happiness Point 4: Take Mistake as Mistake
When someone commits a mistake, do not go blaming that person for it. It will create a very negative impression in that person minds but on the other hand if we consider the mistake as mistake the person feels more responsible about his/her actions and would never repeat it.
Happiness Point 5: Stay in the present moment
We should not waste our time thinking about the past to save our mind from painful memories or the future as it puts stress on our mind. Staying in the present helps focus on the actual task at hand.
"When you wake up every morning, look into a mirror and give yourself a good smile. The smile is the sacred gift of life." – Sri Sri
My next post will be about the life lesson that affected me the most. It is not one of the above-mentioned ones. It is something that was discussed in the class but it captured my attention and helped me analyze a self-sabotaging habit I needed to change immediately. There is a lot I learnt in those six days and I will be sharing it all with you so keep reading and do not forget to comment your views about this or any other article. Thank you for reading. Stay Awesome 🙂