In a comment on the post 10 Reasons An Ayurvedic Sesame Oil Massage Makes Us Strong and Beautiful., a reader asked me how to do an Ayurvedic (daily) Self-Massage. In this article, I am trying to explain the method I learned from my qualified Ayurvedic masseuse and hope every reader finds this beneficial.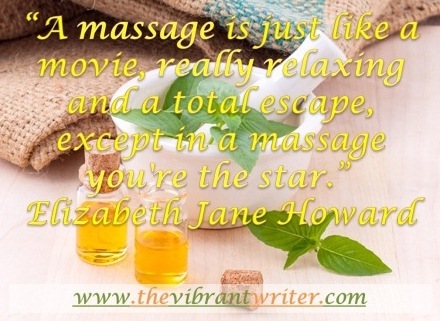 Ayurvedic massage from an expert therapist is a luxury. I love getting a deep tissue Ayurvedic massage and have enjoyed it daily when I spent a fortnight in a naturopathy center in Pune. However, this cannot get a little heavy on our pockets. If like me you enjoy the massage therapy and do not want to spend a lot of money on it, I suggest you practice the amazing art of self-massage. I think self-massage is like a workout.
Self-massage therapy has a lot of benefits which are mentioned below and if done properly can be very relaxing and refreshing. Rest assured it is as good as any expensive spa treatment plus a good workout. Most of us do not have enough time to add such an elaborate daily routine so for the busy days you can do a quick 10 minutes spot massage. A full body version will take 40 minutes to an hour. Try doing the full body version once or twice a week for better results.
Benefits of Ayurvedic Self-Massage:
1. Tightens lose skin after weight loss, makes skin more elastic. If you do this regularly, it will help you lose weight and you will not need excess skin removal surgery after major weight loss. Your skin will adjust beautifully to your new body frame and not sag
2. Lessens stretch marks, softens and smoothens skin, wrinkles and age spots
3. Tones and nourishes your muscles making them firmer and giving you a tighter body
4. Lubricates joints and reduces pain
5. Increases blood circulation and helps to eliminate toxins
6. Strengthens limbs and increases stamina
7. Relaxes and rejuvenates mind and removes stress
8. Gives you a deep relaxing sleep
Ingredients Required:
a) Lukewarm Sesame or Mustard Oil,
b) Lukewarm Coconut Oil for Head Massage (Optional)
c) Coconut/ Almond/ Olive or your daily lotion for face Massage (Optional)
d) Camphor (if you have joint pains),
e) A Large Towel or Old Sheets that you don't mind getting oily
You can read about the benefits of Sesame oil (most preferred for Ayurvedic Massage) in my post 10 Reasons An Ayurvedic Sesame Oil Massage Makes Us Strong and Beautiful.
Limitations of Self-massage:
In self-massage we cannot massage hard to reach places like our back specially the upper part. Do not give up if you cannot cover your entire body. Treat this treatment like an exercise to increase flexibility. Once you start doing the massage regularly, you will be amazed how flexible you get and how easily you start covering areas of your body that felt impossible before. For a good back rub, you can hire a masseuse but the easy to reach places such as abdomen and thighs should get regular massages.
How to do an Ayurvedic Self-Massage (Full Body 40 to 60 Minutes):
Step 1: Neck and Shoulders massage: (Position – Sitting or Standing)
Take your preferred oil and rub it in your palms to make it a little warm.
Tilt your head back and massage your throat in 7 to 8 upward strokes.
Rub in the oil from the collar bone to your chin. This movement helps reduce double chin.
Now look down or tilt your head down and rub the back of your neck and shoulders in upward circular movements. You may not be able to cover much of your shoulders or upper back area at first but when you start doing this practice frequently, you will find a lot of improvement in your reach.
Step 2: Arms Massage: (Position – Standing)
Rub both hands in upward direction just as you apply your body/ sunscreen lotion.
Use your thumbs and fingers to massage your wrists, palms and fingers.
Spend some extra time on your elbow joint and upper portion of your arm.
Step 3: Feet Massage (Position – Standing)
Rest one leg on a chair/ stool or bed (covered your bed with your massage towel or sheets),
Take generous amount of lukewarm Sesame or Mustard oil and massage your foot and each toe with both hands.
Press each toe between your thumb and fingers and rub your foot with the flat part of your palm.
Rub your heel between your thumb and fingers and slowly move towards your ankle.
This is a great way to show some much-needed appreciation for our feet.
Step 4: Leg Massage (Position – Standing or Sitting)
Hold the position where you rest one leg on a chair/ stool or bed (covered your bed with your massage towel or sheets),
When you are done with your foot, massage your leg in long strokes from ankle to knee.
Cover your shin and calf nicely while applying the oil.
Apply generous amount of oil to massage your knee do not forget to cover the back of your knee.
Step 5: Thigh and Hips Massage (Position – Standing)
Still hold the position where you rest one leg on a chair/ stool or bed (covered your bed with your massage towel or sheets),
Massage the back part of your thigh and hips with long strokes and by using both hands start from back of your knee and move towards your hips.
After few long strokes and a nice rub on your thigh, cover your hip in circular lifting motions.
Massage the front part of your thigh in upward of downward long strokes as per your comfort.
Repeat Steps 3, 4 and 5 for the second leg.
Step 6: Lower Back Massage (Position – Standing)
Stand straight. Rub some oil in your palms and massage your back with both hands. Start from wherever you can reach and moves down towards your hips. The massage should be in an inside out direction.
You can find a point on your spine where both your palms touch behind your back go as high as you can. Your reach will improve with practice.
Now rub down and outwards towards your hips repeat this for few strokes and then rub the sides of your belly and chest staring from under your armpits move towards your hips.
Step 7: Abdomen and Chest Massage (Position – Sleeping)
So far, this must have felt like a workout. The last step will make you feel relaxed. Lay down on your back. Use your massage sheet or towel so the oil on your back, hips and thighs will not stain your furniture or flooring. Pour some oil on your tummy and massage in circular motions. Cover the whole area of your stomach.
Move both palms in clockwise and anticlockwise direction one after the other so that you cover the whole belly. If this is your major problem area spend more time here. Pour oil in your navel and spread it on your belly with mild force. Imagine your belly fat melting as you move your hands.
Massage under area of your breast in upward motion. Use both palm on each breast at a time and massage in a lifting position. Lightly massage the upper portion of your chest and cover the whole breast.
After Massage Relaxation:
We ended our massage in a sleeping position so that we can calm our body and mind in a relaxing meditation. Close your eyes, rest your arms on your sides with palms facing upwards, keep your legs shoulders width apart, let your shoulders and head down as if you are peacefully floating in a beautiful pool.
Stay in this position as long as you want. Breathe slowly and deeply. Concentrate on your breath coming in and going out. Imagine that your body is made of wax or clay and you are shaping it in your desired shape. In your mind see your body like you want it to be. Remove all the toxins thoughts about yourself and your body and be grateful for your health and strength. Spend as much time as you want in this position.
Let your body soak up the healing power of oil for an hour or more and go for a warm refreshing bath.
Did you enjoy the Massage? It is time consuming but so much worth the efforts.
I am waiting to know how you feel about this method to support weight loss while making our bones stronger.
Post a Comment, Question or Suggestion below or by clicking "Comment" link under the Title.