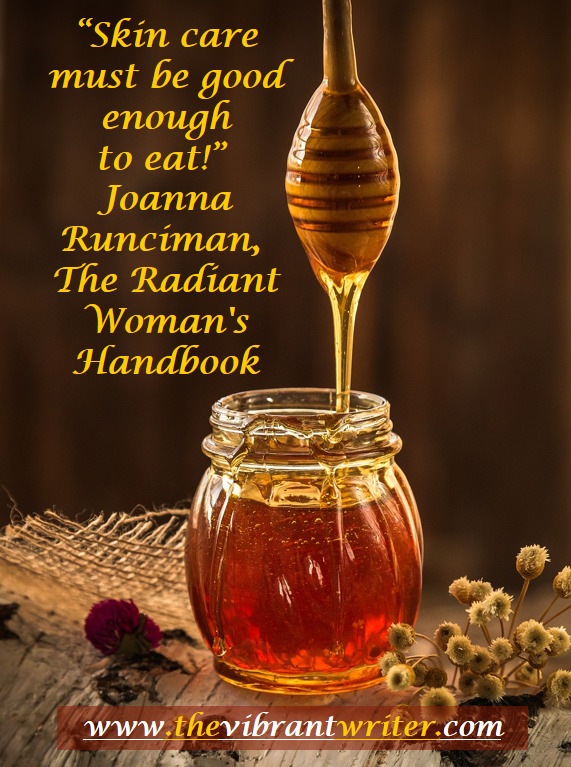 In my blog posts How to Clear Dark Spots/ Scars from Acne or Chemical Burn Safely & Naturally and Camphor and Coconut Oil Blend: 7 Uses for Skin Problems, Pain & Much More I have mentioned natural ingredients to clear blemishes. These natural cures are mild and they require time and patience that we sometimes lack and the benefit of using natural ingredients is that we do not experience any side effects.
"The great thing about Ayurveda is that its treatments always yield side benefits, not side effects." Shubhra Krishan, Essential Ayurveda: What It Is and What It Can Do for You
Have you noticed how most of the beauty products available boast about the natural ingredient that makes their product different. Have you read made by real fruit or milk or oil on an expensive beauty product. If yes then why not use that product in its purest form rather than some nice smelling chemical treated product.
This article has a list of 9 such natural and edible skin enhancers that do wonders for our skin and they can be found in most kitchens.
9 Natural (Edible) Ingredients for Flawless Radiant Skin:
1. Lemon:
Lemon juice is rich in Vitamin C and it has been used as a natural bleach for generations. When lemon juice is applied regularly the spots and scars fade and the skin becomes radiant. Drinking lemon juice with warm water every morning also helps in clearing the skin as it flushes away the toxins. In case of sensitive skin kindly avoid applying lemon juice if you get mild irritation then dilute the lemon juice with either water or honey.
Lemon + Honey Face Pack:
Freshly squeezed lemon juice 1 tsp + honey 1 tsp. Mix well and apply. Keep for 20 minutes and rinse off. It gives us a nice glow.
2. Aloe Vera:
I have mentioned benefits of Aloe Vera in article Every day Visit to the Fountain of Youth …(Aloe Vera) (part 3). Aloe Vera gel is be used to soothe irritated or burnt skin. If applied regularly it fades scars, spots and marks making our skin blemish free. Aloe Vera moisturizes our skin and makes it glow. Aloe Vera gel can be directly applied to skin problems like acne, boils, burns, sunburns, scars and also mild psoriasis. It is also good as a face mask as it cools the skin and reduces the aging effect.  
Aloe Vera Gel Face Pack:
Apply the gel and keep it as long as you want. One can also keep it overnight. It moisturizes and refreshes the skin and removes tan and any other discoloration.    
3. Apple Cider Vinegar:
I have given a lot of benefits of Apple Cider Vinegar in Apple Cider Vinegar Benefits for Weight Loss and Overall Health & Beauty. Apple cider vinegar maintains the PH balance of the body. Always dilute ACV before applying on skin concentrated ACV can damage or burn skin so use 1 part ACV with 6 parts water or more. ACV improves skin conditions by clearing acne, eczema. You can add 2 tsp of ACV to your bath for an overall cleanse, it is also effective to eliminate body odor or any other skin conditions. Makes the skin clear and glowing as it reduces skin discoloration, acne or age spots, wrinkles, black or white heads and even suntan.
Natural Toner:
ACV + Water with a cotton ball and let it dry naturally or rinse off just after you cleanse your skin apply the mixture of then layer up your moisturizer.
       Warts Cure:
It is a great remedy to remove warts.
       Soak a small cotton ball in ACV, place it on a wart, hold it down with help of a Band-Aid,
       leave overnight, and repeat until the wart is gone.
4. Potato:
Potato juice is a strong cure for tan, scars, spots and any other discoloration. Apply Juice on skin regularly for a blemish-free skin.
Potato Juice Ice Pack:
Freeze potato juice into ice cubes and rub this frozen potato juice cube on the affected area. Keep for 20 minutes and rinse off.  
5. Milk:
Milk is another strong cure for all kinds of blemishes. Like Lemon Juice Milk is also natural bleach and brightens as well moisturizes the skin. Milk can be combined with any ingredients to make a nourishing face pack, especially for dry skin.   
6. Fenugreek Seeds:
Fenugreek is anti-inflammatory and can soothe aggravated acne.
Fenugreek Seed pack:
Soak 1 tsp of fenugreek seed in water overnight. In morning make a paste of the soaked seeds and apply the paste to the affected area. Keep for 20 minutes and rinse off. 
7. Besan/ Chickpea Flour:
Indian have been using besan to improve skin health for centuries. Besan is even used in pre-wedding bridal care. Besan can replace face wash or soap and it will make the skin naturally radiant.
Traditional Besan & Turmeric Pack:
For Dry Skin:

1 tbsp Besan + a pinch Turmeric make a paste with milk.
For Oily Skin: 1 tbsp Besan + a pinch Turmeric make a paste with rose water.
For Normal Skin:

1 tbsp Besan + a pinch Turmeric make a paste with curd.
8. Cucumber:
Cucumber juice makes skin brighter. Cucumber slices are used to solve puffy eyes problems. Cucumber masks can rejuvenate skin and give it a refreshing glow. Drinking cucumber smoothie or juice daily can make skin and hair beautiful from inside.
Cucumber Juice Ice Pack:
Freeze cucumber juice into ice cubes and rub this frozen cucumber juice cube on the skin. Keep for 20 minutes and rinse off. 
9. Honey:
Pure Honey removes dark spots and acne scars for good. Honey is antiseptic in nature and controls the spread of acne. Just like milk honey can be added to any face pack or can be directly applied on the skin for a glowing complexion.