The two days of BNLF has enriched my desire, excitement, and knowledge about professional blogging. I treasured meeting, interacting, and spending time with bunch of creative people who proudly calls themselves BLOGGERS.
Bloggers are a special tribe that likes sharing their passion with the world. We like to express our creativity boldly. Some of us do face criticism even threats but that does not dim our enthusiasm to blog. Bloggers are trendsetters and even rule breakers. We find joy in creating something new and unique. We are proud about our small new world of words, pictures and videos. We create awareness and opportunities.
Indiblogger's team has helped bloggers in India reach a much wider audience. I am grateful to be a member of Indiblogger and after attending the BNLF event my gratitude grew multifold. The event was organized and managed perfectly, every note just as promoted was a keynote, every influencer speaker was encouraging to partake, participants were involved and interested in learning, the venue The Lalit Mumbai was delightful, the cleartrip activities were fun, the master cooking class was educational and the food was delicious. (if I missed to mention something please feel free to add it in the comment section)
Top 9 takeaways from BNLF for me:
1. AnshulTewari of Youth Ki Awaaz – Showed us how blogging is a powerful tool that can bring attention to issues that the media ignores. Blogging moves people, societies and even governments.
2. Arnab Ray helped us understand the delicate balance between a day job and pursuing our passion to write / blog. The GreatBong took us on a journey of politics, books, movies and how blogging changed his life.
3. Everyone knows Bruce Dickinson (Iron Maiden) is a great entertainer with millions of fans across the world. In BNLF we got to know that he is an equally great entrepreneur. The class went crazy when he walked on the stage. We all calmed downed and listened when he started talking about the smart ideas that helped him take his brand to millions. His business strategies had a mix of wild and brilliant ideas like adding zeros, difference between customers & fans, the creative mosquito and such never heard before ideas.
4. Bruce Dickinson's in his class said, "If you want to achieve it, you need to dream it." This mantra changes lives and it can change ours too.
5. Christoph Trappe – The authentic storyteller explained us the importance of telling a story in a pure authentic way. He encouraged us to create a unique identity. I liked his quote, "Be willing to be vulnerable". This was his first trip to India I hope he took good memories from here.
6. Preeti Shenoy's talk on a writer's life was realistic. She gave us a glimpse of a bestselling author's life that is 90% of hard work (research and writing) and 10% of glamour. Writing with a pet nearby may add to the luck factor.
7. Kanan Gill's talk was hilarious. He talked how planning your life in notebooks and diaries may not work but with a great sense of humor, you can reach places.
8. Purva Ray's gave Amu-sing answers to the dreaded question, "What do you do for a living?" It has been a challenge explaining what we do when we say we blog but now with her funny insights I might end up laughing then coming up with a witty answer.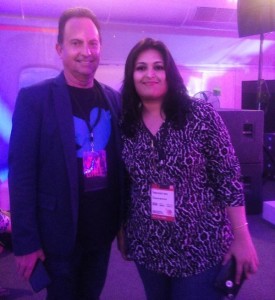 9. Jeff Bullas an internet marketing genius. I religiously followed Jeff's teachings and was overexcited to meet him in person. His practical points on blogging, marketing and promotions using social media can help us increase our blogging earnings. The best quote he made in his class was, "Done is better than perfect". Jeff's selfie with Indibloggers will always remain as something special.
I cannot thank Indiblogger enough for getting us a chance to meet such influential personalities and for everything packed in the two days of BNLF.