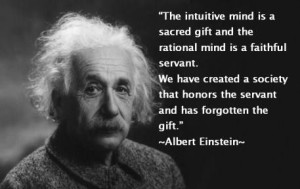 Do you believe in God? For years I believed God to be a passionate artist or else how would you explain the vibrant beautiful world around us. How would you explain different colors, sounds, tastes and texture that nature splashes so abundantly. God is incredibly creative; isn't he? How do you see God; as a passionate artist or a crazy scientist?
"Creativity is God's gift to you. What you do with it is your gift to God." — Bob Moawad
Albert Einstein is my favorite genius not just because he was an amazing scientist but a firm believer in imagination and mind's creative power in the intuitive mind. Einstein's above quote clearly mentions "The intuitive mind as a sacred gift." Without it there would not be any discoveries. Everything we enjoy today was an imagination or a dream of a brilliant visionary.
God and Humans who are created in his image are all artists even the crazy scientists. An artist or a scientist is not different from each other. They both get possessed with their passion or work.
"Our vocation and professional work is not a second class activity, something we do just to put food on the table. It is the high calling for which we were originally created. The way we serve a Creator God is by being creative with the talents and gifts He has given us." — Nancy Pearcey (Total Truth)
If you want are interested in enhancing your craft or exploring your creative side you can read a wonderful book called "The Artist's Way" by Julia Cameron; which is a full course in connecting with the higher creative energy. This book can awaken an artist within anyone even if you think you don't have a creative side you will be surprised to find out your true nature.
I am glad to give a peek in Julia extraordinary work. Every principle is a quote to remember especially if you are an artist trying to find your place in this rational world.
"Basic Principles:
1. Creativity is the natural order of life. Life is energy: pure creative energy.
2. There is an underlying, in-dwelling creative force infusing all of life — including ourselves.
3. When we open ourselves to our creativity, we open ourselves to the creator's creativity within us and our lives.
4. We are, ourselves, creations. And we, in turn, are meant to continue creativity by being creative ourselves.
5. Creativity is God's gift to us. Using our creativity is our gift back to God.
6. The refusal to be creative is self-will and is counter to our true nature.
7. When we open ourselves to exploring our creativity, we open ourselves to God: good orderly direction.
8. As we open our creative channel to the creator, many gentle but powerful changes are to be expected.
9. It is safe to open ourselves up to greater and greater creativity.
10. Our creative dreams and yearnings come from a divine source. As we move toward our dreams, we move toward our divinity." — Julia Cameron