"He who cures a disease may be the skillfullest, but he that prevents it is the safest physician." — Thomas Fuller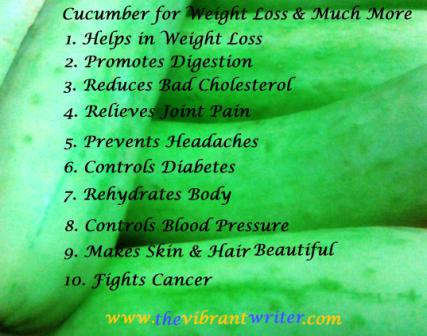 I believe in getting fit without starving and so I am always looking for healthy guilt free food that can be comforting without adding to our waistline. In this post I am sharing my latest lazy person's diet food recipe that is not only healthy but simply delicious. I am sure you would enjoy this recipe as much as you enjoyed the famous Green Gram Soup. If this gives you any idea do share it with us.
If you would like to share some inventive healthy and delicious recipes on this blog please drop me at mail@thevibrantwriter.com and I will publish your recipes as a guest post. As I said earlier I am always looking for healthy options to keep my stomach full with nourishing guilt free good food.
Nowadays Cucumber is dominating my kitchen. When I studied its benefits I picked up a lot of cucumber. After eating it raw or in salads; I wanted to try something different with it. After some trial and error I am happy with one simple recipe which I have given at the end of this post. Before that let me give you some reasons to incorporate cucumber in your daily diet.
Benefits of Cucumber:

1. Helps in Weight Loss: This is what attracted me to this amazing humble vegetable. It is miraculously effective if you are trying to lose weight. Having a cucumber before each meal can help you get full with lesser calories than usual. Low calorie and high water content the perfect food to snack on whenever you feel hungry. Slice it thin or run it through a blender and have a refreshing green smoothie.
2. Promotes Digestion: If you include cucumber in your diet daily you can forever get rid of digestion problems. Cucumber is loaded with dietary fiber which effectively releases toxins from our digestive system. If you suffer from constipation have a cucumber day any of the week. Eat as many cucumbers as you can for your meal s the whole day it may sound difficult but it will cure the constipation better than any pill. One suggestion try to have your cucumber day before a rest day as on the next day of your cucumber day you will spend a lot of time in the washroom.
3. Reduces Bad Cholesterol: Cucumber has a compound called sterol which helps in reducing bad cholesterol level.
4. Relieves Joint Pain: Cucumber is a rich source of silica, vitamin A, B1, B6, C & D, Folate, Calcium, Magnesium, and Potassium which promotes joint health by strengthening the connective tissues and reduces arthritis pain.
5. Prevents Gout: Cucumber lowers the uric acid levels preventing from painful gout.
6. Controls Diabetes: Cucumber juice regulates the production of insulin hormone which controls diabetes.
7. Rehydrates Body: Cucumber is mostly water loaded with vitamins that hydrate body and flush out toxins. It is highly recommended for everyone who is trying to reduce calorie intake.
8. Controls Blood Pressure: Cucumber is a rich source of potassium, magnesium and fiber which helps control blood pressure.
9. Makes Skin and Hair Beautiful: Cucumber slices are most commonly used to solve puffy eyes problems. Cucumber masks can rejuvenate skin and give it a refreshing glow. The silicon and sulfur in cucumber promotes hair growth. Drinking cucumber smoothie or juice daily can make skin and hair beautiful from inside.
10. Fights Cancer: Researchers have found compounds in cucumber that can reduce risk of cancer.
My Personal Creamy Cucumber Soup Recipe:
This is how I am having Cucumber with my meal everyday:
I make a rich creamy thick soup of fresh green cucumber. I find this hot thick soup quite comforting compared to cold salads.
The recipe is simple:
. Cut 2 cucumbers (with skin) into small cubes,
. In a deep pan or a small pressure cooker take very little oil,
. Once the oil is hot add a tsp of fennel seeds/ jerra,
. Sauté 1 onion chopped finely,
. Optional you can sprinkle little dried fenugreek leaves/ kasturi methi
. 1/2 tsp turmeric powder,
. ½ tsp coriander powder,
. ½ tsp red chilli powder,
. Salt as per taste,
. Water just enough to make thick soup, boil or pressure cook till the cucumber is easily mashable,
. Garnish with fresh coriander leaves.
Or you can use Italian spices like parsley and oregano for a different version.
For extra flavor crush in a cube of vegetable stock.
Go ahead try this healthy wholesome soup and let me know if you liked it. I keep my soup spicy but please make it as per your taste preference.