Christmas Day is so much fun especially when you are spending it with kids. This Christmas I gave a different kind of gift to my friend. Her 6-year-old son was looking forward to watch the movie 'Penguins of Madagascar' but she was feeling a bit under the weather and was making excuses to avoid the holiday rush in the mall.
I couldn't see his cute little face getting all sad and I offered to take him to watch the movie and for his favourite kids' meal at the mall we regularly visit. Little did I knew that he would invite a friend and so on the very crowded day of Christmas me and my husband ended up babysitting two very energetic and very active boys.
Being well aware of the crowd situation we reached the mall a couple of hours before the movie started. While I was clicking photos of the kids with the mall Santa and around the pretty Christmas decorations, my husband went in the supermarket and got some drinking water, chips, bandages and Dettol Mutli—Use Wipes. I didn't understand why we needed so many things we were out only for few hours we were not going on some trip but he said it will come handy.
The movie was amazing. We both enjoyed as much as the kids but when they turned on the lights I noticed the kids' hands and faces were covered in sticky cheese popcorn dust. They both looked like they were dipped in the popcorn machine. When I stood speechless and tried to find my hankie in my bag my husband told me to use the mutli-wipes and he was so right about it.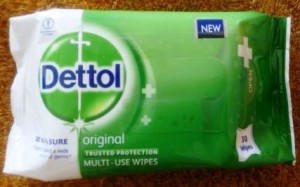 Thanks to Dettol Mutli-Use Wipes cleaning the sticky cheese was easy. It felt nice on the skin because its pH neutral and it kept the skin moisturised. For years Dettol has provided the best kind of protection against a wide range of germs. It is a trusted brand name in every household and so I found it secure enough to use on face and hands. It effectively cleaned cheese and was also useful when the kids had ice-cream all over their hands and face.
Dettol Mutli-Use Wipes helped me keep the kids clean without running multiple times to the jam-packed mall washroom. I couldn't thank my husband enough for getting this amazing product. This comes in two sizes 10's pack and 30's pack. I will always carry the smaller pack in my bag the bigger pack will be kept someplace handy at home.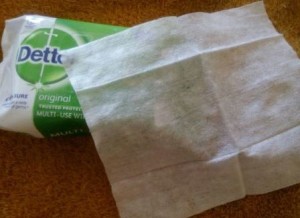 Pros of Dettol Multi-Use Wipes
They are ideal for –
• Ideal for instant clean-ups of hands, face or even surfaces
• Protects against a wide range of germs
• Gentle on skin
• Leaves a fresh fragrance
• Alcohol free
• Use at home, in the car, office, or on holiday
Cons of Dettol Multi-Use Wipes
I couldn't find anything worth complaining about the product. Because of my babysitting success I may have to something like this again and then also I will be armed with Dettol Multi-Use Wipes to get me out of all kinds of sticky situations 🙂
Usage:
• Pull back the resealable cover, and pull out a wipe
• Reseal the pack after each usage, and store with the cover facing down to avoid the wipes from drying out
• Wipe your skin, or surface to hygienically clean, and then dispose the wipe
Suitable for:
• Hands and face
• Childrens' Toys
• Work Surfaces
• Kitchen Surfaces
• Electrical Devices
(Note: Product not suitable for Carpets, Upholstery, and Fabric)
Sizes available in 10's pack and 30's pack.
This blog post was sponsored by Dettol.