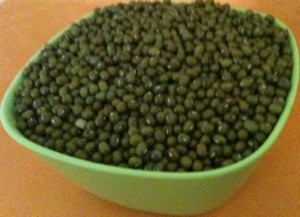 Here is a super food I really love and enjoy not only because it keeps me full but it also helps me lose weight. It has many properties that are beneficial for us especially when we are starving ourselves in the name of being on diet.
Yes, I am taking about the good old Green Gram or Green Moong. We can have it in many forms. We can soak it and make a healthy dal to have with roties or brown rice, we can sprout it and make a healthy salad from it. There is also one interesting way that I doubt most are not aware of; we can dry roast the dal and dry grind it into flour to make some healthy and tasty roties/ parathas or wet grind it to make healthy versions of dosa, idli or uttapa.
Now here are some reasons why you should give so much thought to Green Moong:
1. It's loaded with Goodies: It is rich in Vitamin A, B, C and E and also in many minerals including iron, calcium, and potassium. Not to forget it is a powerful source of vegetarian protein.
2. It good to Shed Some Unwanted Weight: It is considered a healthy weight loss food as it is a low fat food rich in proteins and fibre. It curbs cravings and keep us full for a long time. It detoxifies the body and benefits the metabolism as well as immune system.
3. It's good for the Heart: It helps to lower the high cholesterol level in the blood system. Regular intake of Green Moong reduces bad cholesterol and improves the flexibility of arteries and veins. It also regulates the blood pressure.
4. Keeps a check on the Blood Sugar Level: Green Moong is full of complex carbohydrates in form of high fibre, which aids digestion. Complex carbs also stabilizes blood sugar and controls its sudden rise after meal, while keeping body's energy at a balanced level. Green Moong can be highly beneficial for people having a high blood sugar level.
5. It's Anti-fungal, Anti-bacterial and Anti-Cancer: Green Moong contains Vitamin B-1, Vitamin C and Vitamin B-6 (pyridoxine). Regular consumption of diets rich in Vitamin-B6 help you develop resistance against contagious agents that cause diseases. As per Ancient Chinese medicine it also contains anti-cancer properties.
It's Amazing for Skin:
Moong bean dry grinded powder serves as an effective facial scrub or face mask. It makes skin smooth and youthful while minimising skin problems like acne, spots, tan or wrinkles. It is mild enough to be used as a daily face cleansing agent. For dry skin add milk or cream or honey to it. For oily skin add rose water or tap water to make a paste. Apply a thin layer and wash off when it dries. You can add a pinch of turmeric powder for a natural glow.
How I have Green Moong everyday:
I make a rich creamy thick soup of green moong and switch one of my meals with it. I mostly have it for dinner and I find this hot thick soup quite comforting compared to cold salads or any other meal alteration.
My recipe is simple I soak Green Moong overnight then pressure cooker it with little oil, 1 onion, 2 chopped green chillies, 1 tsp Ginger Garlic Paste, 1/2 tsp turmeric powder, ½ tsp coriander powder, ½ tsp red chilli powder, salt as per taste. Water enough to make thick soup. You can add any vegetables to it or any garnish to keep it interesting.
My new post 6 Super Foods for Weight Loss and Much More has some more interesting receipies to keep you stuffed guilt free.