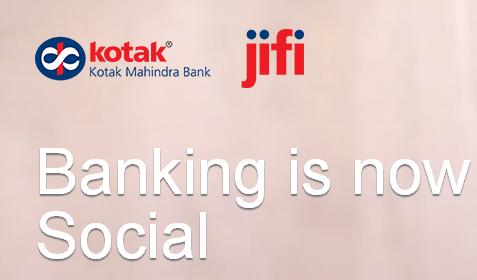 Ever since I started blogging I am enjoying living a digital life. Social media has given us such an amazing platform to connect with anyone anywhere and I am always amazed by the new trends. When once a hobby started taking shape into a full time profession I decided to keep the finances related to writing in order. Yes I do know a bit about managing finances. If you know me you would know that my first job was with a bank and I believe once a banker always a banker. Latest and new trends in bank always excites me and I love to find out more flexible approaches to manage my account as let's face it when we try to make money as a freelance writer we do not enjoy the comfort of a regular pay.
I decided to get an account that is easy to operate even from my mobile phone, which is flexible to handle transactions any time as per the convenience of clients mostly based internationally and which supports online purchases. Luckily I found out about Kotak JIFI an amazing banking option for bloggers. It's easy, smart, flexible, completely new age.
I found the zero minimum balance and social and transaction points that can be redeemed on purchase the most attractive advantage of Kotak JIFI Account. To help fellow bloggers learn the other benefits I have mentioned most of the benefits in detail below. To know more about this account I recommend visiting the link http://www.kotakjifi.com or Kotak Bank's Corporate Website.
New age Banking Benefits of Kotak JIFI Account:
1. Zero Minimum Balances: The best feature for a freelance writer like me as it does help us get over the dry period when we are in between projects. It pays high interest on balances over Rs.25,000 by automatically creating term deposits with your spare cash.
2. A Funky Platinum Debit Card: Jifi Debit Card comes with a host of premium benefits catered to your taste. A chip based debit card that offers added security at PoS terminals and gives you a higher withdrawal limit at ATMs.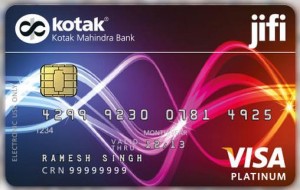 3. Full of Rewards and Surprises: Cool points for introducing to friends, commenting on Facebook page. These points can be redeemed by buying exciting products online.
4. Sign Up Benefits: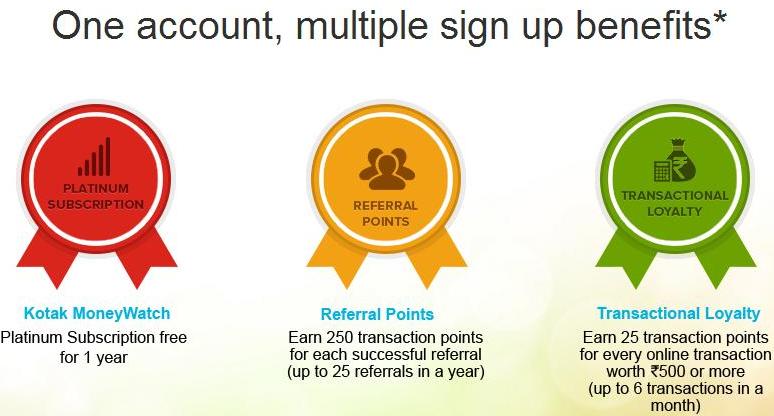 5. Convenient and Flexible,
6. Mobile Apps: Kotak Mobile Banking app lets you manage your accounts, pay your bills, transfer money and much more. Kotak Offers app provides updates on the hottest discounts, exclusively catered to your taste.
7. Loyalty Club: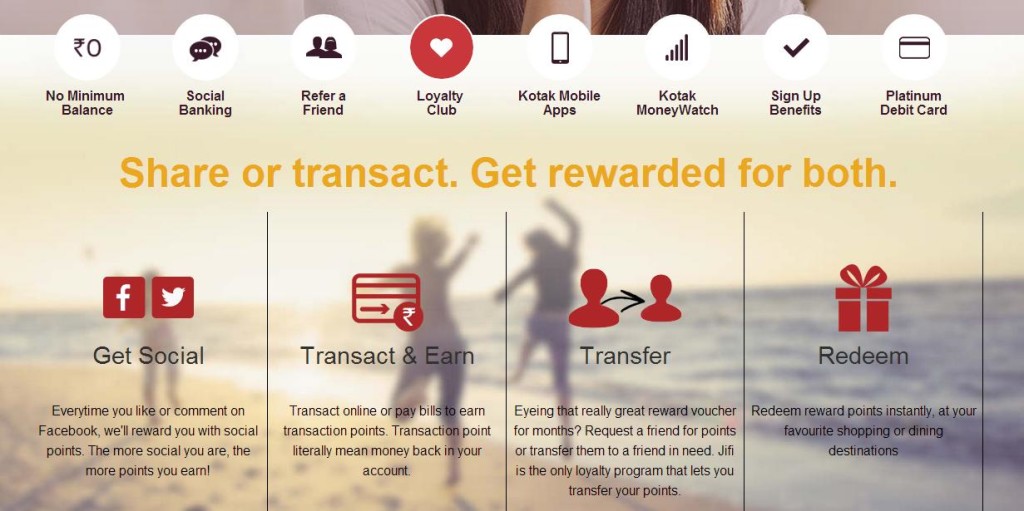 8. A Personal Financial Tracker,
9. Supports Online Transactions and Purchases: Start earning cool social points & transaction points for every online transaction. We can also trade points with friends. Choose the points to redeem and select from many options start banking differently
10. Social Banking: Bank with Kotak using Twitter; your account balance, transaction history, cheque book request and many more activities are now just a tweet away.
A bank account truly for the digitally driven and socially connected if you are not yet convinced watch the video below and come join me in the world of JIFI a new age of banking has arrived and I want to be a part of it, do you?
This blog post was sponsored by Kotak.