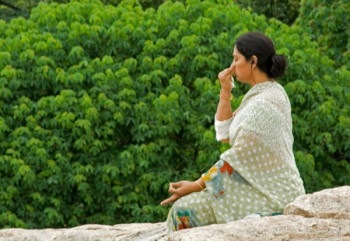 "If we are creating ourselves all the time, then it is never too late to begin creating the bodies we want instead of the ones we mistakenly assume we are stuck with." — Deepak Chopra
Hectic routine, ever increasing stress, toxic atmosphere, addictions and junk food all piles up to lifestyle related diseases. Any one of the above reason is good enough for health problems like obesity, high blood pressure, heart problems, diabetics, PCOS and many such demons that are haunting nearly every households.
Toxins have become such a major part of our life that we cannot escape it. Good lifestyle choices like exercising regularly, drinking lots of water, getting rid of addiction can help us prevent future problems but it cannot reverse the damages that has already been done to our body.
If you are having trouble getting your health back on track then doing "Pranayams" beside all that you are already doing can help. Pranayams are breathing exercises and a very important part of Yoga. Pranayams cure the body from inside and brings balance and order to our hormones.
Regular practice of pranayam can help reverse adverse effects of lifestyle related diseases. It has no side effects and it is far more effective than any modern medicine or treatment. My Ayurvedic doctor emphasis on the benefits of "Anulom Vilom Pranayam". He insists that everyone should do Anulom Vilom Pranayam for minimum 15 minutes daily.
What is Anulom Vilom Pranayam:
Anulom Vilom Pranayam is a breathing exercise were alternate nostrils are used to breath in and out. It is a very effective purifying technique that can detox the body and clear the mind from stress. It can also reverse effects of toxins, balance harmones and regulate our metabolic rate.
How to do Anulom Vilom Pranayam: (Any one can do this Pranayam)
1. It is important to do this or any other Pranayam on empty stomach.
2. Pranayams are more effective if done early morning in a quite calm place which has lots of fresh air.
3. If possible sit in the morning sunlight to get the added benefit of healing rising sun rays full of Vitamin D.
4. Sit crossed legs in Padmasana (Lotus Position) or in Sukhasana (Easy Pose). If you have knee pain or arthritis you can sit on a chair with straight back rest.
5. Remember this asan is to relax and remove stress so do not strain yourself be comfortable.
6. Close your eyes and breathe slowly and deeply about 4 to 5 breaths to calm and clear your mind.
7. With your right thumb close your right nostril and breathe in through left nostril. Be slow and gentle. Then close the left nostril with middle and ring finger and breathe out of right nostril.
8. Next step will be inhale through right nostril and close right nostril then exhale through left nostril. Keep repeating this alternative breathing for 10 to 15 minutes.
9. For the first week start with 5 minutes. Gradually increase the time to 30 minutes.
10. If you cannot do Pranayams in morning you can do them post a gap of 4 to 5 hours after meal.
"Every human being is the author of his own health or disease." — Gautama Buddha
Why to do Anulom Vilom Pranayam: It's Amazing Benefits ->
Anulom Vilom Pranayam has amazing benefits that can completely bring order and harmony in our mind and body. Regular practice of this pranayam –
1. Purify, cleanse and tone the nervous system,
2. Removes toxins from the body and clears the mind from stress,
3. Improves digestive system and cures constipation, bloating, gastric problems and other discomforts of an upset stomach,
4. Regularizes the three doshas (Vata, Kapha and Pitta) making the body healthier,
5. Balances hormones curing health issues like PCOS, Irregular menses,
6. Increases the intake of oxygen that helps cure conditions like sinus, respiratory problems and asthma,
7. Regularizes the proper circulation of oxygenated blood, it strengthens the heart and functioning of the lungs. Cures high blood
pressure and arthritis,
8. Provides relief from stress, depression, chronic sinus problems, migraine and hypertension.
9. It increases the energy levels of the body and makes the mind calm, peaceful and positive.
10. Anulom Vilom can make us vibrantly healthy and radiantly beautiful. It helps cures the reason that makes us fat like slow metabolic rate or hormonal imbalance. If we regularly practice Anulom Vilom losing weight becomes easy. It makes our skin glowing, clear, radiant and beautiful. It is the most effective anti-aging secret of many famous beautiful people.
Precautions: Avoid during pregnancy. In case of any critical illness like serious heart condition please take your doctors approval before doing this pranayam or any other kind of exercise.
"A fit, healthy body—that is the best fashion statement" — Jess C. Scott