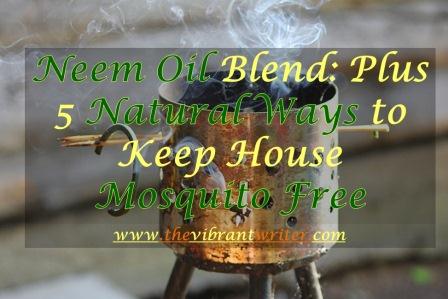 Recently mosquito-borne disease spread has risen. People in a state of panic buy chemically mass produced mosquito repellents, which in the long run are harmful to health.
Nature has some very effective ways to tackle this pest problem but only few take advantage of these natural remedies. We love the convenience of the chemical mass produced repellent but we cannot ignore the harmful side effects it can have on our health. Especially children should not breathe in those toxic fumes.
2 Methods to use Neem Oil to keep the pesky pests away:
Method 1: Make Natural mosquito repellent by blending neem oil and coconut oil in equal parts. Apply on your skin whenever you are stepping out. The bitter smell of Neem is strong enough to keep the mosquitoes away. Coconut oil helps to keep the skin soft and hydrated.
Method 2: Take 1 Tbsp. powdered Camphor and add 1 Tbsp. Neem Oil and blend well. Fill this mixture in an empty refill unit of your chemical mosquito repellent. Use this mixture just as you use the plugged in chemical mosquito repellent or in a vaporiser. The bitter smell will fill the room and you will notice the mosquitoes will disappear. Keep the room closed for some time for faster effect.
5 Natural Ways to Keep House Mosquito Free:
1. Tulsi: As per the Hindu culture Tulsi also known as The Holy Basil should be planted and worshipped. Ayurveda has mentioned many benefits of this amazing plant. Tulsi has some wonderful qualities. It is highly antibacterial and has the ability to keep its surrounding germs free. Tulsi has properties that do not allow mosquitoes to survive or breed.
2. Mint:

Mint in any form be it leaves, oil, plant or essence is highly beneficial to keep pests away. We can plant mint shrub in balcony or windows. We can spray diluted mint mouthwash around the house. One can even burn dried mint leaves or use vaporiser. This not only helps the house become bugs free including mosquitoes it also makes the air feel refreshingly fresh.
3. Camphor: In method 2 we used Camphor with neem oil to keep mosquitoes away. In a closed room, light 5 to 6 pieces of Camphor let the smoke and smell of Camphor fill the room the mosquitoes will disappear in 20 minutes. Read about another use of Camphor in Camphor and Coconut Oil Blend: 7 Uses for Skin Problems, Pain & Much More   
4. Garlic:

  Garlic and garlic oil has many medicinal properties and it keeps Mosquitoes away. Crush fresh peeled garlic pods and let them infuse in water or natural oils like neem or coconut. Use this blend in vaporiser or spray around the room. The mosquitoes will stay away from garlic smell.
5. Eucalyptus/ Nilgiri oil:

 I love the smell of Eucalyptus. It is antiseptic and antibacterial. The smell relaxes the mind and calms tired body. I believe it also releases pain from the body. When we add Lemon Oil to Eucalyptus Oil it becomes a strong insect repellent. We can this strong oil blend in vaporiser to keep our house insect and mosquito free.   
All the above remedies are 100% natural. Some of these are not as convenient as plugging in the store brought chemical repellent but these do not come with harmful side effects. In fact, the medicinal properties of these natural cures surrounds us with an healthy antibacterial atmosphere. You will sense the positive energy in your house within first few days.   
Above mentioned methods are from the collaboration of old school knowledge passed down for generations. In extreme cases, some of these methods will fail to give expected results. Please take precautions accordingly.