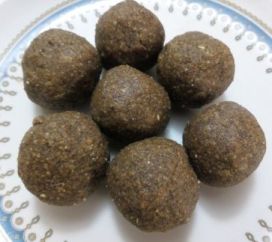 Trying to lose weight can be mentally frustrating and physically exhausting. We have to give up many things we love to eat and try to make peace with fruits or vegetables that we used to always avoid.
Many dieters including me are tend to go overbroad with starving self before a special occasion or just to reach the weight loss goal sooner. We fall flat on our face for a few times and then we learn that starving is not the solution. We need an energy booster now and then. If you are eating less for a long time or are pregnant or breast feeding your new baby then you need the goodness of Ragi.
Dieting is not eating less but eating the right food in proper portion. Even occasionally indulging into something that is considered bad or sinful is allowed as long as you get back on track with eating healthy.
That's the word I like to use instead of dieting – "Eating Healthy: The right thing in the right amount". We need to look for food that will keep us healthy, active, in a good shape and will fill us up with energy. Yes such food does exist and no you don't need to spend a fortune on them. I call these special types of food as Superfood.
When I spent a month in the naturopathy centre near Pune I found such a Superfood that I simple love. It is loaded with goodies like calcium, iron, much required fibres and vitamins like A, B1, B2, B3. It is a godsend for people who are trying to make their bones healthy as it helps bone development and prevents osteoporosis.
Benefits of Ragi/ Nachani:
1. For Bones: Calcium: Rich source of calcium. More than any other grain hence a daily consumption can make our bones stronger.
2. For Digestion: This little grain is loaded with fibre that helps us lose weight as it aids our digestion. A small amount of Ragi can prevent bloating.
3. For Cholestrol: Ragi helps to decrease bad cholesterol. It also controls fat in liver.
4. For Diabetes: Ragi controls sugar levels and helps prevent diabetes.
5. For Pregnancy: Ragi provides the calcium and iron requirement of would be mothers and their baby.
6. For Breastfeeding: To have a good flow of milk and provides the new mom with the much needed nourishment.
7. For Blood Pressure: As Ragi controls bad cholesterol it prevents blockages of arteries and also prevents high blood pressure and stroke.
8. For Anaemia: Ragi is a rich source of iron which helps cure Anaemia.
9. For Weight Loss: Ragi is full of fibre and energy which keeps us full for a longer time and cure constipation and bloating. Ragi is a healthier alternative to wheat. I highly recommend adding small amount of Ragi flour in your wheat flour that you use for your daily roties and bread. I personally prefer the Ragi flour Roti made of only Ragi flour and not mixing it with anything but only water to enough to knead it into soft dough.
The recipe below is a special recipe for those special days when you feel weak and need a big boost of energy. It's far better, healthier and tastier than any commercial energy bar or drink. I advise to go light on these if you are trying to lose weight as they are enriched with Ghee, Jaggery and Peanuts.
Ragi or nachani energy balls for instant energy:
Ingredients:
1 heaped cup Ragi or Nachani flour
1/4 cup Til or Sesame Seeds (white)
1/4 cup Peanuts
1/2 cup Jaggery grated
1 teaspoon Cardamom / Elaichi Powder
2 – 3 tablespoons Ghee or Clarified Butter
Method:
1. Dry roast Til or Sesame Seeds on a low flame till you get aroma.
2. Dry roast Groundnuts or Peanuts. Cool and remove skin. Finely grind both together.
3. Then add Jaggery and Cardamom / Elaichi Powder to the blended mixer and grind again.
4. In a frying pan dry roast Ragi flour. Add 1 or 2 tsps of ghee while roasting. There will be a pleasant aroma. Remove from heat when the colour gets slightly darker.
5. In a bowl mix all the ingredients
6. Take small portions of this mixture and roll them into balls. If the mixture is dry then add little ghee for making balls
Variation:
a. If you are having trouble making balls of the above mixture you can flatten it out in a plate or a baking tray. Press it and cut it into cubes.
b. If you are allergic to peanuts you can add any other nut of your choice.
c. If you are not sure about the jaggery taste then instead of using only jiggery you can use a mixure of jaggery and powdered sugar. I would always recommend dark organic jaggery over sugar as it is the healthier option.