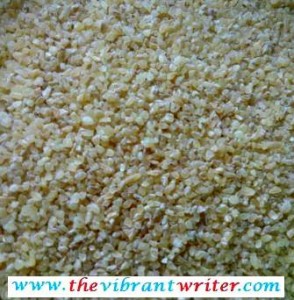 Rice has always been an important part of meal for me. Indian food has a treasure of delicious rice preparations and they are very addictive. We Indians love our rice. Different parts of the nation like rice in their own special way. In south it is enjoyed with Sambhar, in north there is Rajma or Dal Makhani, in east Macher Jhol (Bengali Fish Curry) and in west has its Gujrati Kaadi or Rajasthani Dal Khichadi or Maharastrian Varan. These are just few gems of the treasure. There are hundreds of recipes if not more that celebrate rice in India and I love them all.
Do you get the picture how important rice is for me? Few months back I was advised by my yoga instructor to give up rice to get into my desired weight. She knew it was my weakness and knew I wouldn't follow portion so she advised me to stop eating it completely. Rice was the main reason I was not reaching my desired weight and giving it up was the right thing to do but was it easy? On no it was not. I struggled so bad to fight the cravings.
Even if I could avoid rice for few days I would easily cheat on my #diet if I came across any delicious rice preparation. My will power was very week and the guilt of not staying on the diet would make me depressed. Luckily I found a solution to this problem. I started experimenting with Dalia also known as Lapsi Rava or Broken wheat. It is far healthier than rice even brown rice and has fewer calories.
Within only few days I noticed a lot of improvement in my #health. My energy levels were higher. I felt full for longer time which stopped irregular intakes of snacks. My digestion was better which made me feel lighter. I don't have to deal with unnecessary calories and guilt anymore. Dalia is cooked exactly like rice and it tastes like rice with dals and curries. Dalia is an easy option for a slimmer and healthier you.
Benefits of Dalia/Cracked or Broken Wheat:
1. Great source of fiber and a healthy dalia meal can complete your daily fiber requirement
2. It is a complex carbohydrate and a rich source of magnesium
3. High in protein but low in calories
4. It is a great source of energy and has low glycemic index
5. It improves digestion and promotes faster elimination of waste and toxins from body
6. It stabilizes glucose as it releases glucose slowly into the bloodstream
7. Rich source of Vitamin B1 and B2
Dalia is cooked just like rice and can be used instead of rice in all rice preparations. Be it with dal, curry or any gravy. Dalia can be used instead of rice in Khichadi, Pulav and even Biryani. Check out the next post for some Dalia recipes I enjoy and why I never miss rice anymore.