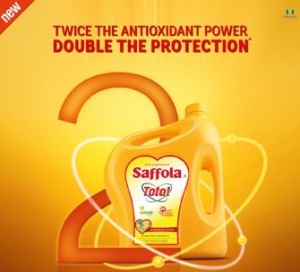 Today many people are suffering from heart related problems. Heart problems are not just for the elderly anymore. Lifestyle disorders like stress, being overweight, consumption of junk food, irregular eating habits, addictions like smoking, drinking and worse add to strain on the heart. We need to understand that heart is a miraculous machine which is working nonstop for us.
We can avoid the life threatening heart conditions by keeping check on our diet. A little change in our lifestyle can make a huge difference to our heart's health and can increase our lifespan with years. Besides regular workout like walking, cycling or yoga, drinking water and eating low-calorie high-fiber food we should chose the right cooking oil for our day today use.
The cooking oil plays a big role in our daily fat consumption. While choosing the right cooking oil we should keep few basic points in our mind like it should be high in antioxidants and its absorption capacity should be low.
In my search to find the right oil I experimented with different kinds of oils like Olive, Rice Bran, Safflower and finally settled my quest to find the perfect oil with Saffola Total. When it comes to heart healthy cooking oil Saffola has always been a preferred brand among many. Saffola has always given us good quality products and the latest brand of oil Saffola Total has lots of benefits.
3 Reasons why Saffola Total is the right kind of cooking oil for a healthy heart:
1. High Antioxidants:
Saffola Total is high in antioxidants. It has twice as many antioxidants as in olive oil. Antioxidants protect our cells and prevent this cellular damage thereby decreasing the risk of CVD and other diseases. Antioxidants are known to reduce oxidation of LDL (bad cholesterol) thus help maintain a strong heart. Help in mopping bad free radicals and maintaining cell health. Prevent clogging of arteries/ blockage of arteries. Help in keeping our arteries healthy.
2. Low Absorption:
Saffola Total has the added advantage of Losorb Technology. Saffola Total has up to 10% lower absorption capacity as compared to other oils. Based on external lab studies on sunflower oil, soybean, canola (Saffola Total has shown 18% Lower Absorption then soybean oil, 16% Lower Absorption then sunflower oil, 20% Lower Absorption then canola oil).
3. Multiseed Benefits:
Saffola Total is a blend of rice bran oil and safflower oil. It gives us goodness of two oils in one. Furthermore, it is fortified with antioxidants that help fight free radicals and thus maintain the stability of the oil during storage and while cooking at higher temperatures.
"Saffola Total is a special blend of oils with a balance of fatty acids, which is considered suitable not just for the heart but for overall wellbeing. Moreover, the high antioxidant content of this oil makes it the right choice for staying healthy." Neelanjana Singh (Consultant Nutritionist).
We are already struggling with lack of time and increasing level of stress and we cannot afford to jeopardize our health by not taking care of our diet. Our body does have a daily requirement for fat and good cholesterol (HDL) hence our balance diet should include a healthy amount of right kind of fats.
When we count our daily fat intake we count fats like butter or ghee kind of products that we add on to our meal and forget the cooking oil which is in fact the largest source of our daily fat intake. We avoid outside food because of the unhealthy and burnt oil that is used in most of the eateries but do we use the best available cooking oil for our home cooked meal. I suggest we spend some time to find the best cooking oil for our family's health. I am happy to suggest using Saffola Total as your daily cooking oil.
This blog post was sponsored by Saffola.