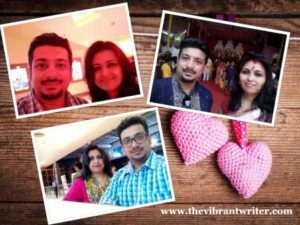 What makes someone our best bud? Someone who fills our life with love and laughter, someone who gets us into trouble but also tries to get us out of a pickle. A best friend gives us the courage to go beyond our mental limitations, someone who challenges us to try to achieve our dreams, and someone with whom we can share anything and everything, someone who stops us from repeating our past mistakes but also sometimes become partners in a different blunder.
"When you're in jail, a good friend will be trying to bail you out. A best friend will be in the cell next to you saying, 'Damn, that was fun'." ― Groucho Marx
I share a very strong bond with my best friend. For the last 16 years, I have been on fun roller-coaster ride with this special buddy of mine. Soon after we met, we become inseparable. As if two puzzle pieces that fit perfectly we instantly knew, we were meant to be together. Soon our friendship blossomed in love and the companionship got stronger. A decade of courtship got us close enough to be bonded in matrimony.
"You are my best friend as well as my lover, and I do not know which side of you I enjoy the most. I treasure each side, just as I have treasured our life together." ― Nicholas Sparks, The Notebook
I share many great memories with my husband. Back in the dating days before we both got busy with our careers we went on a lot of unplanned trips. As we both loved water we would mostly end up at some coastal place. The sun, sand and waves kept calling us and we would immediately get on with another road trip. Rain or shine, by car, bike, ferry, bus or train we would always reach a destination where we could get drenched in the ocean.
Some unforgettable incidents happened on such trips. The scariest one was when we were quite young and stupid. Our first car got stuck in the sand of a secluded beach. We both were scared as we could not find anybody to help us and no matter how hard we tried, the car would not come out. We both had to go and find some locals and then request them to come and help us free our car. The locals did not like tourists and it was not a pleasant situation but the car got out unharmed.
With every challenge we face together we both come out stronger and wiser. We both understand each other's strengths and weaknesses. We also understand the value of each other's support and every day our dependency on each other increases. We feel stronger when we are together as we work as a team.
"My best friend is the one who brings out the best in me." ― Henry Ford
This article is inspired by the ZEE TV's Yaaron Ki Baraat as the new program got me into the spirit of Celebrating Friendships. I am thrilled to find out such amazing friendships among our favorite celebs.
History will be created on 8th October at 8 PM as Zee TV brings together two living legends of Indian cinema for the very first time on a television chat show. Sharing sepia-toned memories and heart-warming anecdotes from a friendship that spans over four decades is a special jodi that fans haven't had enough of! Recreating their magic from films like Dostana, Bombay to Goa, Naseeb, Kaala Patthar and Shaan, Amitabh Bachchan and Shatrughan Sinha will spill the beans on their friendship on Zee TV's chat show hosted by Sajid Khan and Riteish Deshmukh.