Is Make Health our Priority? The answer is No if most of our waking time is spent running behind our career. We forget about the most important aspect of our life – health. It is sad that today health is the neglected. We start taking care of our body only when we get some indication of sickness.
Today many people are suffering from many health problems. Our sedentary and stressful lifestyle has aged us before time. Health concerns like blood pressure, diabetes, heart problems are not just for the elderly anymore. We can blame our Lifestyle disorders like stress, pollution, irregular eating and sleeping patterns, excessive usage of chemicals, unhealthy weight, consumption of junk food, addictions like smoking, drinking and worse is destroying our health.
A little change in our lifestyle can make a huge difference to our heart's health and can increase our lifespan with years. It is not advisable to make sudden big lifestyle changes without consulting your doctor. Self-diagnosis is not only a useless technique but it can also be extremely dangerous.
Many people out of desperation make changes in their lifestyle without understanding the cause of their symptoms. When it comes to health people should make informed decisions and for this one must have regular Preventive Health Checkups.
I have recently done a preventive health checkup and I found some great options in Aarogyam Packages from Thyrocare, which is one of India's most advance and trusted laboratory.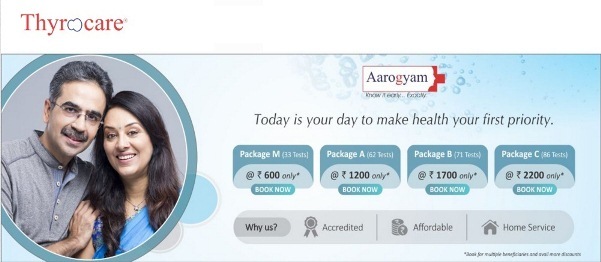 My experience with Thyrocare's Aarogyam Packages:
1. Very professional service provider
2. After booking an online appointment I instantly got confirmation by mail and SMS
3. They sent me reminders about fasting and before the collection of sample
4. The blood sample was collected from home as per my convenience without any hassle
5. I got a confirmation message after collection of the sample
6. The online reports were provided in time and I am assured that the hard copy will reach me soon, which I have no doubt about.
7. The packages are highly affordable and cover a fast range of tests and profiles.
Benefits of Preventive Health Checkup:
"Prevention is better than cure", "A stitch in time saves nine" are well-known adages.
Today more emphasis is placed on the prevention of diseases and promoting health awareness.
The chances of curing a disease are high if it is dictated in the initial stage.

Regular checkup can keep you informed about your health and with that awareness and help of your physician you can follow a suitable diet and exercise routine.

Growing sedentary lifestyles, increasing stress levels at work place, tempting and enticing food displays, growing disposable incomes, increased addictions to automobiles, all indicate that we give to our body more than what it needs. This has given rise to obesity, diabetes, high blood pressure and a host for many other lifestyle disorders.

Clinical laboratories with advanced tests and technologies, can help in identifying various disorders accurately which can be treated completely or at least the progress can be delayed.
Why I chose Thyrocare?
Thyrocare Technologies Limited is India's first and most advanced Totally Automated Laboratory having its strong presence in more than 2000 cities / towns in India and internationally.
Thyrocare prides itself as India's first fully automated clinical chemistry laboratory with a focus on providing quality results at affordable costs to clients like laboratories, doctors, hospitals and organizations as well as patients from across the country and abroad. Their Centralized Processing Laboratory consists of 120,000 sq. ft of track automation system that has a capacity to process over 50,000 samples in a day. Situated in Navi Mumbai, the laboratory operates 24×7, processing over 30,000 samples a day with a turn-around time of 4-5 hours.
As a clinical testing laboratory with a vision to provide quality diagnostic services at affordable rates, their test menu is a carefully crafted list of investigations catering as much to sick care as to preventive care. Their tests cover varied age groups from offerings for prenatal screening, to screening for hormonal imbalance, nutritional deficiencies and tracking lifestyle disorders. Listed below are the various test/parameters under different categories.
The new, upcoming and modern technologies are rapidly introducing new diagnostic tools and constantly evolving the booming diagnostic market. Moreover, in today's competitive environment, operating a successful and cost effective practice is challenging. With a similar intention to conduct diagnostic testing economically, Thyrocare Technologies Limited began its journey in Healthcare sector with a very simple, reliable, highly specific and reproducible technology – the Radioimmunoassay, a Nobel Prize winning, breakthrough technology in diagnostics. However, with exponentially increasing number of samples which demand on an average more than one lakh investigations per day, Thyrocare has made right use of the latest available advanced superior technologies, capable of working on its unbelievable sample volumes, and yet deliver quality and precision to its customers.
Some FAQs I had while booking my appointment with Thyrocare:
Q. What is the quality assurance from Thyrocare? Do laboratory accreditations matter?
A. Thyrocare is one the first Indian diagnostic laboratories to obtain internationally renowned quality accreditations like ISO 9001-2000 rating as early as 2001, which is now escalated to ISO 9001:2008; NABL (National Accreditation Board for Testing and Calibration Laboratories) and CAP (College of American Pathologists) certification.
Q. What is fasting and which tests need it?
A. Some of the tests require that the beneficiary is on fast for 10-12 hours before the sample collection is done. During fasting, no food or beverages are to be consumed by the beneficiary. Only water is permitted. If fasting is not followed, then the results for some of the tests would be affected.
Q. When can you arrange for sample collection after I book my tests?
A. Once booking is done, an appointment has to be confirmed. Our service provider or customer care executive will contact you within few hours to ask for a date of appointment. Alternatively, you can also contact the service provider whose details are given on the confirmation Email / SMS. Appointment date / time is as per the preference of beneficiary. However, it may be subjected to availability of technicians on that particular date/time.
Q. How soon will I get reports?
A. Once the samples are collected, including transit time, the laboratory will take anywhere between 2-5 days time for reporting, depending on your location.
Q. Is a doctor's prescription needed to avail the testing service?
A. If any preventive healthcare package is required to be done, it does not need doctor's prescription. However in case of any illness, the patient is advised to consult with their physician before making any booking.
Q. How will the reports be delivered to me?
A. Once the results are released by the laboratory, the service provider will ensure it is hand-delivered or couriered to the address where sample was collected.
This blog post was sponsored by Thyrocare