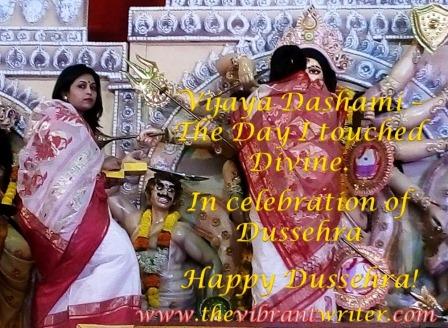 I am not a born Bengali but become a part of this Vibrant and Beautiful community from the day I got married. Actually a decade before that; when I started dating my (now) husband. While dating I did participate in the beautiful culture by attending the Saraswati Puja at the Anandmayi Ashram and getting the divine blessings of Ma Saraswati who has always been generous with her blessings on me. In those college days we feasted like royalty on Durga Puja by attending the multiple Pandals and having the lip smacking Bhog and saving our pocket money to indulge on the Bengali delicacies available in the temporary stalls of the festive Durga Puja Pandals.
I still feel the excitement of a young college girl exploring a new world whenever I step into a pandal. The curiosity to know as much as possible, the concentration required to repeat every word after the pandit at the time of Astami Anjali, uproar of the Shankha, fragrance of the Shiuli Flowers, thump of the Dhak, clouds of incense emitting while a devotee is in a trance of Dhunuchi Naach and all this blending into an immense celebration of the Divine Shakti still gives me the goose bumps like I am experiencing everything for the first time.
I had to wait a decade before I could take part in one ritual that I adore the most. On the last day of Durga Puja which is also known as Vijay Dashmi all the married women get to perform a unique and special ritual.
The women dressed up in the iconic red border Bengali saree and big red bindies; perform the Dashmi Puja by getting close enough to touch, apply sindoor, offer Prasad/sweets to the massive idols of Ma Durga, Ma Lakmi, Ma Saraswati, Lord Kartikey and Lord Ganesh. This has always fascinated me as I have seen huge idols of various Hindu Gods in temples, in Ganesh Chaturti and other festivals but here it is hard enough to reach the idols feet let alone applying Sindoor on forehead and actually feeding the idols sweet with your hands.
Here I do not want to get into the debate about idol worship because as per my hindu upbringing and beliefs touching those beautiful clay idols is as good as touching the Divine Shakti herself.
Last year on Vijay Dashmi, I was standing in the line of women to perform this beautiful ritual. I have a very curious mind and do not hesitate to ask anyone about their take on spirituality.
I summed up all my courage and asked the women ahead of me in the line, "What do you say to Ma when you get so close to her?" I got almost similar answers from most of them as they ask for health and happiness for their family, they ask for success for their husband and children, they ask for help when they need some and as such blessings from the Ma.
I pondered on the thought about what I shall say. I knew I would not get a lot of time in front of the Idol, the line was huge and every lady was getting rushed. I had a list of things I could ask for to Ma but this list is always in my mind so naturally it reflects in my daily prayers. I wanted to use these few beautiful minutes that I get once in a year with the Idol of the Divine, which is full of the positive energy of so many people by expressing my inner most thoughts and prayers.
The moment I got on the podium and close to the Idol of Lord Ganesh my inner most prayer came out of my heart and it was "Thank You". I kept repeating Thank you constantly. Thank you for this opportunity to express my inner most thoughts for you, thank you for this life and everything you have blessed me with so far and thank you for all the blessings you have lined up for me in the future.
I touched a pinch of Sindoor on the foreheads, hands and feet on all five Idols, I fed them with a morsel of sweet and while doing all this I constantly kept repeating Thank you as a Mantra. I could feel the warmth of the Divine Smile graciously accepting my prayers.
The day I touched Divine and Thanked her for everything – I felt blessed.