A Christmas gift at the end of the post.
"I Am That I Am" are considered sacred words as it is the response what Moses got when he asked God for his name. Spiritual speakers like Wayne Dyer, Pastor Joel Osteen and many more have highlighted the power of the words "I Am" in shaping our future. Dr. Wayne Dyer explains that the words "I Am" are sacred identification of God so we should be very cautious when we use these words in our day today life.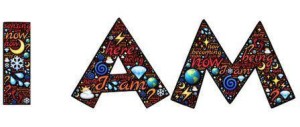 "The words I AM are your sacred identification as God- your highest self. Take care how you use this terms because saying anything after I AM that's incongruent with God is really taking the Lord's name in vain!" — Wayne W. Dyer

As per Pastor Joel Osteen the words "I Am" are magnetic and whatever we put after "I Am" comes looking for us. Whatever we say after the words "I Am" we invite that in our life.
Let us take a look at our thoughts; what do we mostly say or think after "I Am" in our regular phrases. Do we say "I Am Sick," "I Am Tired", "I Am Depressed," "I Am Fed up," "I Am Scrapping by," "I Am Broke," "I Am Lonely," or do we think the exact opposite.
When you get up and see yourself in the mirror what are your first thoughts. "I Am looking so old," or "I Am so fat," or do you say "I Am always late,"
Take an honest test of your thoughts and answer this question. Is your life attracting exactly what you say after "I Am" or this spiritual law does not apply to you. Take your time start keeping check of your thoughts and spoken words and note if they actually become a reality in your life.
If this spiritual law works in your life I have amazing good news for you. You can shape your own future and your own life. Just get extremely conscious about your words. Never say or think anything negative about you and while you are at it why to think anything negative about others too. Just remove every negative thought and word from your life.
Make a list of affirmations that means a lot to you starting with "I Am" and read it in the morning after you get up, at night before you sleep and if you like read it whenever you get time during the day. Play it like a song in your head. Even if the affirmations are not true (yet) you should always use present tense to set the positive forces in motions.
I have mentioned some affirmations starting with the sacred, magical, magnetic words "I Am" in my post – Create A Better Tomorrow with Pre-Sleep Visualization
"I am well,"
"I am content,"
"I am lucky,"
"I am rich,"
"I am strong,"
"I am beautiful,"
"I am blessed with a wonderful family,"
"I am blessed ….;"
A Christmas gift for my amazing readers – I have made a list of some "Powerful Daily Affirmations" that you can download it here, print, and pin it, paste it, hang it or keep it at your home, in your office and everywhere you spend most of your time. Read it regularly and experience the power of positive energy in your life and yes don't forget to share it with our loved ones.
Press Download for the Christmas Gift PDF: Powerful Daily Affirmations
We wish you Merry Christmas & A Happy New Year.